In seminary we were required to make a mission trip, and I requested to go Romania in 1998 and visit with the Christian Reformed World Relief team to build up the people in Christian business principles. Just 9 years post the dictatorial Ceausescu era, the building on the lower right was a pile of rubble in the center of the University campus in Bucharest. After my graduation (Knox Theological Seminary 2002, and a call to Africa) I returned to find it rebuilt, the schools operating and freedom to preach the Gospel, which has become my call to Uganda, "lift high the cross" resonating through my mind. The first week (July 2003) was spent building African Gospel Church. Than for 7 weeks I supervised a team to build a house on the African Bible College at LaBoa Hills and serve Mutungo Community Presbyterian Church as guest pastor. This led to the pastor's vision to build a new worship facility, a medical clinic and a school for the poor, children of widows and the many orphaned kids. Than a request came to return (January 2004) and preach the gospel (Uganda Youth Forum), and in July 2004, having received major funding from the Huizenga Holdings, Inc., and Stewart and Kristine Johnson, I returned to build a worship facility in Mutungo for the Community Presbyterian Church. The land was provided by the church, the building was completed (except for paint) in 10 weeks at $7.50/square foot construction costs , and the work began on Day Spring Christian Academy.

Day Spring Christian Primary School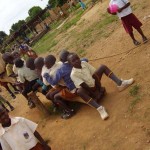 From the MCPC Sunday School class to a new campus of 3.5 acres and 10,000 square feet of operation space and over 460 registered students in K, P1-6 with P7 to begin in January 2008. The donation coming from over 50 donors with facility construction funded by Huizenga Holdings, Inc., and Stewart and Kristine Johnson funded the purchase of the land. Construction commenced in March of 2006 and the children vacated the than cramped campus downtown Mutungo campus (requested by the Ministry of Education), as the student body had out grown the interim facility and had no "playground" or sufficient sanitary facilities.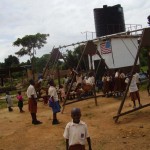 October through November the DSCA will add a new kitchen whose funding started with the Hawarden Christian Reformed Church Sunday School kids (left -$2,600 Sunday School collections), and quickly the balance of $12,000 needed came by matching gifts contributed by five private donors. Our Vision for Christian Education for the Uganda kids continues to grow. Our prayer continues for the finishing details of our campus, but above all the new Secondary school, the Academy of Day Spring, yet to be funded (see below) and built similarly to current facilities, with Computer Lab, Chemistry Lab, and Physics laboratories, a library, dormitories, medical clinic and chapel facilities. The cost of land has risen. Our 3.5 acres was about 50 million shillings (about $30,000) but today an acre cost is about $20,000. The building cost has also increased from the approximately $15.00 per square foot to $18.00/square foot.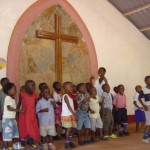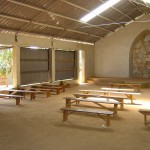 Grace Christian Academy began the third term of 2006 and now has grown from the original 25 orphans, to 78 kids meeting in the African Gospel Church divided by partitions for class space, and we are praying for a new campus on a four acre site.

How Can You Help?
Ways to Get Involved
Prayer!
That we are able to do what God has laid upon our hearts. 25:1, O Lord, You are my God; I will exalt You, I will give thanks to Your name; For You have worked wonders, Plans formed long ago, with perfect faithfulness,
Missions Volunteer Work
(short – two weeks) or long (months such as teaching or construction work, carpentry, painting, tile laying, etc). Ephesians 6:5-8, Servants, of Christ, doing the will of God from the heart; With good will render service, as to the Lord, and not to men, knowing that whatever good thing each one does, this he will receive back from the Lord…"
Project Funding
DSCA Campus Mutungo
Kitchen
$12,000
Done
built October December 2007
Tile floors
$12,750
Funding Needed

*Well
$6,250
Done
drilled done.

Furniture
$10,000
Funding Needed
for desks tables and chairs (and replacements)

Fence
$24,000
Funded
built 2009

Dormitories
(2, one each boys and girls)
$47,500 ea
Funding Needed
for fully furnished facilities primarily for orphans and distant students.

Eating Pavilion Tent and Benches
$4,500
Funding Complete
to be built October 2007
Site Development
$25,000
Funding needed
finish grounds, walk ways, basketball court, volleyball court, plant grass on soccer field, & shade trees etc.
Day Spring Secondary School Complex
High School
$500,000
Funding Needed Urgently
$100,000 FOR 4
ACRES OF LAND, balance for facilities laboratories, furnishings, etc. Scheduled to open for S-1 (8th grade) January of 2009.
Katale Campus (GOD is Good Academy)
Land and Buildings
$300,000
Funding Need Critical
to get school licensed
Kampala (Good Faith Academy and College)
Primary Land and Buildings
$400,000
Funding Needed
(Planning Stage)
Other
Buses (3)
$150,000
Funding Needed
Parents cannot afford public transport for children

Widow's Fund
Funding Needed
Gifts designated to widows or poor families critical needs, such as doors, roofs, windows, additional rooms for orphaned family, beds and bedding, bathrooms, seed, chickens, pigs, or sheep, etc. (Example: widow Rita's home expanded from one to three rooms, and a bathroom ($1300) as she took in three orphaned grandchildren)
Ephesians 3:19
"…that you may be filled with all the fullness of God. (20) Now to Him who is able to do exceedingly abundantly above all that we ask or think, according to the power that works in us, to Him be glory in the church by Christ Jesus to all generations, forever and ever. Amen."

School Charter
DSCA Building Process Slide Presentation
Deuteronomy 26:10
'Now behold, I have brought the first of the produce of the ground which You, O LORD have given me.' And you shall set it down before the LORD your God, and worship before the LORD your God; 11 and you and … the alien who is among you shall rejoice in all the good which the LORD your God has given you and your household. 12 "When you have finished paying all the tithe of your increase … then you shall give it to the stranger, to the orphan and to the widow, that they may eat … and be satisfied.